Shelter Information Page
For more information regarding shelters openings in Acushnet please contact our office at (508) 998-0295 or the police department at (508) 998-0240
No shelters open at this time.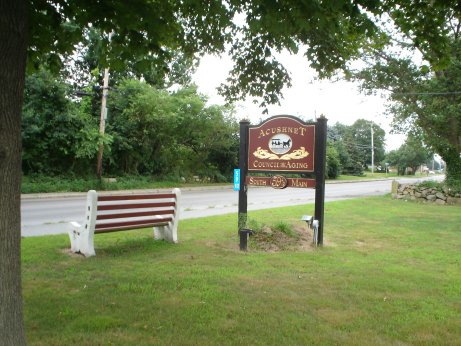 Primary Shelter
Ford Middle School
708 Middle Road
Acushnet, MA 02748
(508) 998-0265
Secondary Shelter
Council On Aging
59 1/2 S Main St
Acushnet, MA 02743
(508) 998-0280
Red Cross Regional Shelter
To be announced
---
What to bring
1. ALL REQUIRED MEDICATIONS AND MEDICAL SUPPORT EQUIPMENT:

Wheelchair/walker, oxygen, dressings, feeding and suction equipment, diapers, etc.

Any specific medication or care instructions (one week or more supply)

Name, phone number of physician/home health agency/hospital where you receive care

An adequate supply of prescription medicine to last for 3 days or more

2. DIETARY NEEDS:

3. FOOD AND WATER/LIQUIDS:

Snacks, fruit juice, Gatorade, water, fruits, crackers (72 hour or more supply)

4. SLEEPING GEAR:

Pillows, blankets (include any support pillows or back supports you may need) if you require being in a raised position when sleeping

Portable cot or air mattress, folding chairs, sleeping bags.

Evacuation shelters tend to be cold so bring a blanket or sweater to keep warm. No guarantee of cots at the shelter.

5. IMPORTANT PAPERS AND IDENTIFICATION:

Wills, deeds, licenses, insurance policies, home inventory, doctors orders, Do Not Resuscitate and Living Will forms

Current photo and current address, medical identification card

6. CASH:

Check cashing/credit card services may not be available for several days after the storm. BUT, don't bring too much. There will be no placed to secure money or valuables at the evacuation shelter.

7. COMFORT ITEMS:

Small games, cards, diapers, books, batteries, manual can opener, etc.

8. PERSONAL HYGIENE ITEMS:

Toothbrush, toothpaste, deodorant, towels, brush/comb, dentures, glasses, hearing aids and batteries, etc.

9. EXTRA CLOTHING:

Pets are NOT allowed in Evacuation Shelters (except service animals). You must make other arrangements for them.
Items You May Bring:
A list of your current medications and at least a 3 day supply of the medications

Documentation of specific medical information

Medical equipment

Oxygen - (supplies)

Neubulizers

Canes/Wheelchairs

Diabetic equipment

Glucose meter/strips

Insulin/syringes

Other insulin supplies

Nonperishable dietary items

Electronic equipment

Flashlight

Radio

Extra batteries

Personal Care

Undergarments

Personal hygiene items

Soap/shampoo
Deodorant
Toothpaste/toothbrush
Brush/comb
Wash cloth
Towel

Sleeping lounging equipment

Lawn/lounge chair
Sleeping bag
Pillow
Blanket
Sheet

Important papers

I.D. with current address

Infant care items

First-aid kit

Personal equipment

Eyeglasses
Hearing aide
Dentures